Typing this out as fast as I can, but, yes, Sony have created a new line of in-ear monitors that are on the custom side.
HELL
YES
❤
They were developed by the same engineers behind the legendary Sony IEM's and headphones: MDR-EX800ST, MDR-EX1000, EX-90, 1-R (?, possibly a reference to the MDR-1R and MDR-Z1R cans), MA-900, and XB series.
So, what do we know? Well with official announcement here's the skinny:
Three models (XJE-MH 1, XJE-MH 2, and XJE-MH/WM 1), each handmade by a master (?), MMCX connections, "Taylor Maid" [sic, possibly a Google translation malarkey], 100 mW, OFC litz cable, different solid and opaque colours including clear, and two types of drivers: balanced armature for mids and highs, and a dynamic driver for the bass and sub-bass.
There is no electronic filter either, "…made it as simple as possible and low pass, high pass filter with acoustic structure made it possible to reduce loss." [Taken from Google Translate].
Making of the CIEM's including some of the acrylic colours used:
About the three models (which can only be bought at select Sony Store's):
XJE-MH 1:
This I believe is the flagship model in which the sound quality is customised to that of the customer, so is variable.
I am unsure if this is then set-in-stone after a sound profile is placed for this model (like UE PRM) or is further adjustable by the user (like JH Audio's adjustable CIEM's).
However, this is for the hardcore audiophile who knows what kind of sound they want and this can be dialled in for them to their tastes.
Can only be bought at the Sony affiliated Tokyo Hearing Care Center Aoyama Store (Vernal Brothers Co., Ltd.). Main store link here.
XJE-MH 2:
This one is unusual, and you could say that comes in three variants, which indeed it does
You pick one of three tone preset sound signatures, 'monitor', 'listening' and 'club sound', and then this is set for your MH 2 CIEM.
Otherwise this is the same as the MH 1.
Personally, I think this is the simpler route than the MH 1 for the casual audiophile; just listen to one of three SQ's and pick one.
Can only be bought at the Sony affiliated Tokyo Hearing Care Center Aoyama Store (Vernal Brothers Co., Ltd.). Main store link here.
XJE-MH/WM 1:
Now this one is the oddity, and could be considered an alternative, parallel co-flagship CIEM with the MH 1.
Here there are two changes from the above.
First is that this CIEM is tuned not to anyone's ears or tastes but to Sony's current flagship DAP, the majestic NW-WM1Z.
Second is the higher quality cable included as standard, Kimber Kable MUC-M12SB1. Not sure if the OFC copper cable has a mic however…
You can only buy this from the following Sony stores: Nagoya #1 (#2), Osaka (#1) (#2), and Fukuoka Tenjin #1 (#2).
Price: 250,000 yen plus tax ($2,225.36/£1,722.06).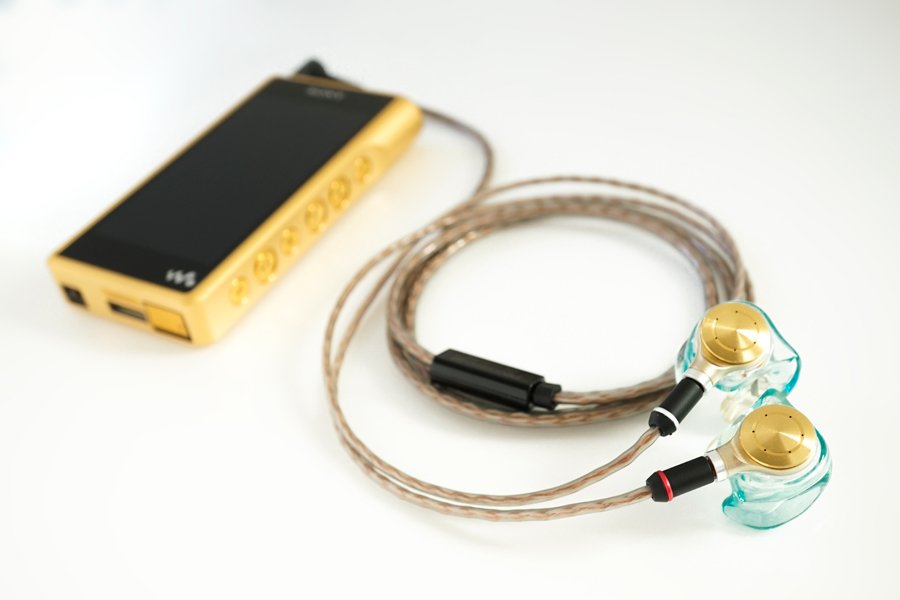 We can take that price from the co-flagship MH/WM 1 and have an idea what MH 1 and MH 2 will cost approximately.
Main Specifications for all three CIEM's:
Format:                               Sealed Hybrid
Driver unit:                        13.5 mm Dynamic 1 unit (Woofer)
1 balanced armature (mid / high)
Maximum input:               100 mW (IEC*)
Cord:                                   About 1.2 m or about 1.6 m OFC litz wire (detachable, Y type)
Plug:                                    Gold plated L type stereo mini plug
Accessories:                       Carrying case, carrying pouch, cleaning tool
*Measurement value according to IEC (International Electrotechnical Commission) standard
Here's a quote from the 'Just ear' Acoustic Engineer, Matsuo Otsu Univ:
"Originally the value of music is priceless, I believe that it is the function of audio to bring out the maximum value of its infinite value. Just ear can deliver music that each person loves with the highest sound quality for that person I will endeavour to do." [Taken from Google Translate].
Another from Just ear designer Osamu Miki:
"I want to pass on the feeling of customers who can use Just ear, the thought of the customers who can use it, the thought of the maker who wants to ask the world with Just ear, in a form that can convince both" holdings "of both. That is my feeling in the design of Just ear.
Solid metal chunks expressing rare hybrid constructions are softly connected from a plug to a beautiful shell.
I would be pleased if you could feel the feeling of seriously dealing with the sound." [Taken from Google Translate].
So, very interesting designs, promotion, and IEM philosophy. Sony are really centring on the idea to get audiophiles to move their body FOR REALZ and get to the actual stores to properly demo and select the sound for them.
I like this, though it does massively reduce exposure of these CIEM's across borders.
In some ways, this is reminiscent of the old Sony Qualia days…
Source #1 Sony Japan website
Source #2 HeadFi Thread
Source #3 Tokyo Hearing Center